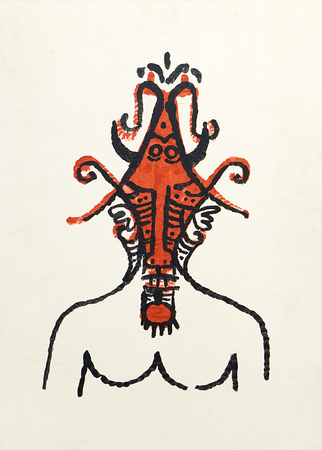 The Last Voyage of the Ghost Ship
(El Ultimo Viaje del Buque Fantasma)
---
Author: Wifredo Lam (Lithographs)
Year: 1976
Medium: Set of 12 Lithos and poems in box, 17 of 300
Size: Size Varies
Inventory No: 06553
Price: $AVAILABLE


Twelve virgin (never framed) lithographs in their original box. Seven of the lithographs measure 19 1/2 x 14 1/16 inches and five of the lithographs measure 19 1/2 x 28 1/8 inches.



This series is signed and numbered by the artist and this example is identified as number seventeen of an edition of three hundred.



The Last Voyage of the Ghost Ship has been exhibited in Barcelona in 1976, Copenhagen in 1978,
Madrid in 1982 and Caracas in 1987.



The series appears registered and illustrated in Wifredo Lam oeuvre gravé et lithographié catalogue raisonné (Wifredo Lam Catalogue Raisonné of Lithographs), Musée de Gravelines, France, 1993, pages 158 and 159.