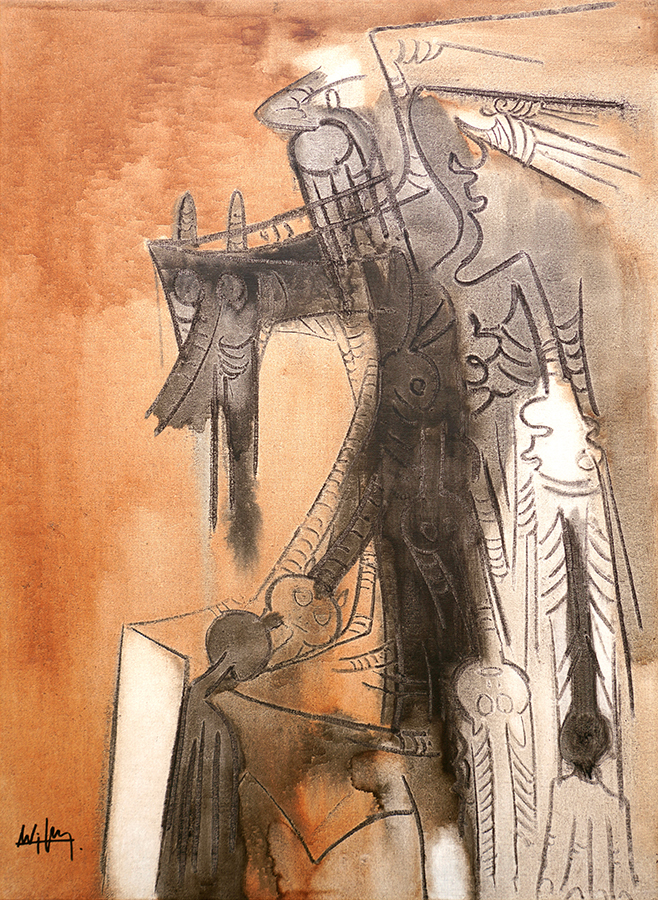 Untitled [Figure and Elegua]
(Sin Título [Figura y Eleguá)
---
Author: Wifredo Lam
Year: 1964
Medium: oil on canvas
Size: 27 1/2 x 19 1/2 inches
Inventory No: 06566
Price: $SOLD


This painting is illustrated in the book Wifredo Lam, Max Pol-Fouchet, Paris, First Edition, 1976, page 236, no. 426; and in its second edition, page 256, no. 458.

Illustrated in Wifredo Lam: Catalogue Raisonné of the Painted Work, Volume II, 1961-1982, Project Director Eskil Lam, Acatos, France, 2002, page 280, no. 64.22.



This painting was exhibited at Wifredo Lam, l'Oiseau du Possible, Oeuvres 1930 à 1978, Galería Boulakia, Paris, France, May 2004, and illustrated in the corresponding exhibition catalog, pages 80 and 81.



Exhibited at Art Miami 2021, The Art Miami Pavilion, Miami, Florida,
November 30 – December 5, 2021.



This painting is accompanied by a Photo-Certificate of Authenticity signed by Lou Laurin Lam, dated November 5, 2005.



Illustrated in Important Cuban Artworks Volume Eighteen, Cernuda Arte, Coral Gables, Florida, page 36.



Acquired by a Private Collector in Houston, Texas.