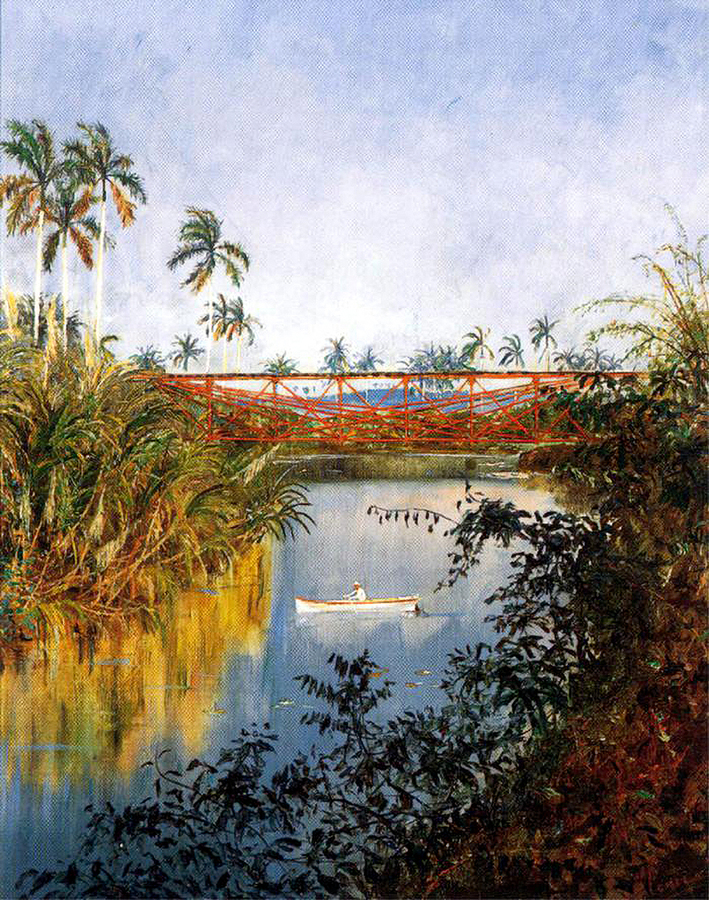 Armando Menocal
Period: Early Republic
1863 - 1942

Bridge of the Palm Train, Cristal River
Puente del Tren de la Palma, Río Cristal, ca. 1930
oil on panel
14 3/4 x 11 1/2 inches

Descended from an illustrious and cultivated Cuban family, Armando G. Menocal was born in Havana on July 8, 1863. This compelling artistic figure of the Cuban visual arts began his studies at the San Alejandro School, under the tutelage of Professor Miguel Melero. In 1880, his parents sent him to Spain in order to complete his education and he became a pupil of Valencian painter Francisco Jover. During his interim in Spain, he also became acquainted with salient figures of the arts and humanities such as Sorolla and Menéndez Pelayo. He exhibited successfully and won accolades in several Spanish national exhibits.


Ten years later, he returned to Cuba to join the Liberation Forces at the outbreak of the War of Independence, in which he served with distinction. At the cessation of the conflict, Menocal dedicated himself entirely to the execution and teaching of his craft. He returned to San Alejandro Academy, where he served as Professor of landscape painting. In 1927 he was named Director of the school and in 1940 he was nominated Professor Emeritus of the institution. Menocal produced important works of art that adorn the walls of the Presidential Palace of Cuba, the Municipal Building of Havana, the University of Havana and the Museum of Fine Arts. Moreover, he was Member of the National Academy of Arts and Letters of Havana. He was a brilliant and eminent painter of landscapes, portraits and historical scenes. He passed away in Havana, on September 28, 1942, leaving a profound imprint of luminosity and beauty in the history of the Cuban arts.