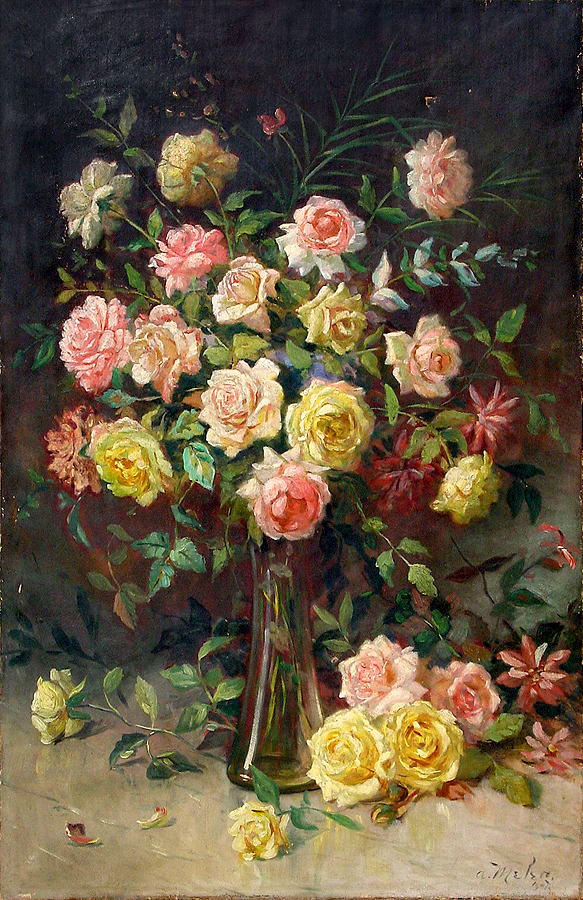 Aurelio Melero
Period: Early Republic
1870 - 1929

Vase with Roses
Florero con Rosas, 1907
oil on canvas
39 1/4 x 25 3/4 inches

Born in Havana, on April 13, 1870. He was a son of the distinguished artist Miguel Melero. He studied painting at the San Alejandro Academy from 1886 to 1899. The artist resided for some time in Madrid and Paris, where he carried out studies related to his profession. He was member of the National Academy of Arts and Humanities. In 1923, Melero was named Distinguished Member of the Association of Painters and Sculptors of Havana. From 1906 to 1929 he taught at the Maestro Villate Foundation School, in the Cuban capital, where he was in charge of the Department of Modeling, Color Theory, and General Culture, in addition to serving as the Principal of the Institution. He wrote articles for the Magazines El Figaro and Bohemia in Havana. He participated in thirteen collective exhibits in Havana between 1911 and 1928. He won prizes in Saint Louis in 1904, and in the contest sponsored by the journal La Marina in 1905. He obtained his highest-quality production with beautiful portraits of ladies that were crafted with great finesse. His other major achievements can be observed in his resplendent and romantic landscape paintings, in which he captured the light of the tropics with exceptional mastery. His work was included in the exhibit Trescientos Aņos de Arte en Cuba (Three Hundred Years of Art in Cuba). Aurelio Melero passed away on March 24, 1929 in Havana, Cuba.