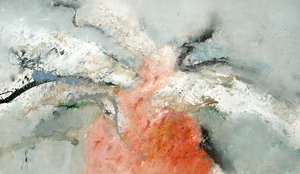 Baruj Salinas
Period:


High Winds
Vientos, 1988
mixed media on canvas
41 3/4 x 71 3/4 inches
SOLD


CURRENTLY THERE ARE NO ARTWORKS AVAILABLE OF THIS ARTIST

Baruj Salinas was born in 1938 in Havana, Cuba. He studied architecture at Kent University, and in the 1970ís moved to Barcelona. It was precisely in Barcelona where he first encountered the works of Joan Mirů, which would have a major impact on his work in the following decades. Salinasí work can be broadly considered organic abstraction, though his dynamic application of paint and tendency to incorporate collage push the envelope on the genre. Works by Salinas have been in the collections of the Art Institute of Chicago, IL; the Phoenix Museum of Art, AZ; Beit Uri Museum, Israel; Museum of Art, Budapest, Hungary; the Fundacion Joan Mirů in Barcelona; as well as the Museum of Art in Fort Lauderdale, FL, among others. He has been the recipient of many awards and titles, among them the Prize to Excellency at the VII Grand Prix International de Peinture in Cannes, France; a first prize at the IV Pan American Exhibition in Miami, and a first prize at the Sexta Bienal de San Juan del Grabado Latinoamericano in San Juan, Puerto Rico. The artist lives and works in Miami.
---
---- No Paintings Found ----