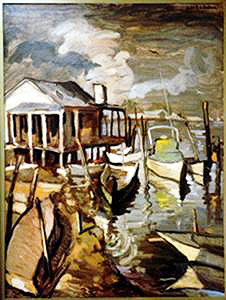 Dulce H. Beatriz
Period: Contemporary
1931

Fisherman's Wharf
Puerto de Pescadores, Undated
oil on canvas
40 x 30 inches
RC0029 -
SOLD


CURRENTLY THERE ARE NO ARTWORKS AVAILABLE OF THIS ARTIST


Dulce Beatriz (née Dulce Hernandez Moreno de Ayala) was born in Havana to a traditional Spanish family. A graduate of Teacher's College and Specialist in Early Childhood Education, (1949) Mrs. Beatriz initiated her musical education at the Carlos Alfredo Peyrellade Conservatory of Music (1939) and received a Doctorate in History of Music and Musical Pedagogy (1953). Her graduation from the National Academy of Fine Arts at San Alejandro in 1955 was accompanied by a Travel Scholarship the same year.

In 1959 she married Leonardo Beatriz, a concert flamenco guitarist who had performed with some of the most famous Spanish artists of the twentieth century. Mr. and Mrs. Beatriz have visited archeological sites in Mexico and Guatemala as well as in Italy, Greece, and Egypt as historical and anthropological scholars. In fact, much of Dulce Beatriz's artistic production is influenced by her travels.

In 1971 Dulce Beatriz published a hardcover book titled A Quarter Century of My Life, which illustrates many of her artworks. Mrs. Beatriz continues to compose new projects with continued vigor and command of her form.

---
---- No Paintings Found ----