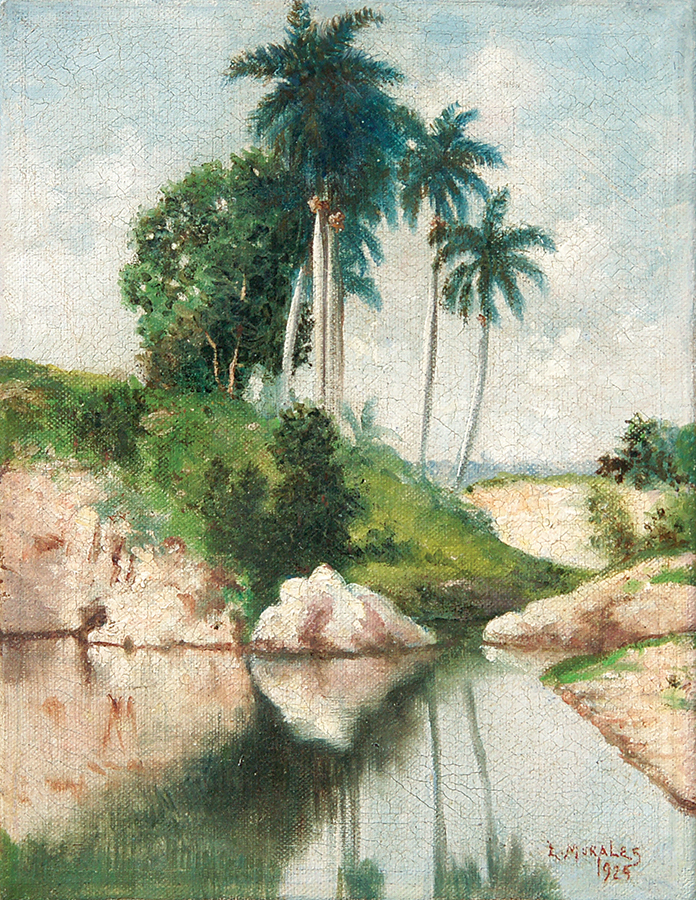 Eduardo Morales
Period: Early Republic
1862 - 1938

Landscape with River and Palm Trees
Paisaje con Río y Palmas, 1925
oil on canvas
10 1/2 x 8 1/8 inches

Eduardo Morales (1862- 1938) was born in Havana. A considerable part of Morales's scarce work consists of landscapes of the Cuban countryside. These works are compelling in the exquisite way that they transfer to the canvas the meticulous level of detail that inherently articulates Morales's mastery of drawing. Distinctive seals of his work include horse-drawn carriages and carioles, which he reproduced with keen vision. He engaged in formal study at the San Alejandro Academy, which he interrupted in order to participate in the struggle for the Cuban independence. Once the war was over, he became a member of the National Police Force, and painted during his hours of leisure. Later, upon retirement, he devoted himself to capturing the charm of the Cuban landscape. His work was included in the historical exhibit Three Hundred Years of Art in Cuba, on which occasion his piece Volanta (Cuban Carriage) was exhibited. His 1912 painting Carretas (Carts) was shown at the exhibit Pinturas Españolas y Cubanas del Siglo XIX (Cuban and Spanish Paintings of the 19th Century) in Salamanca, Spain (1999).