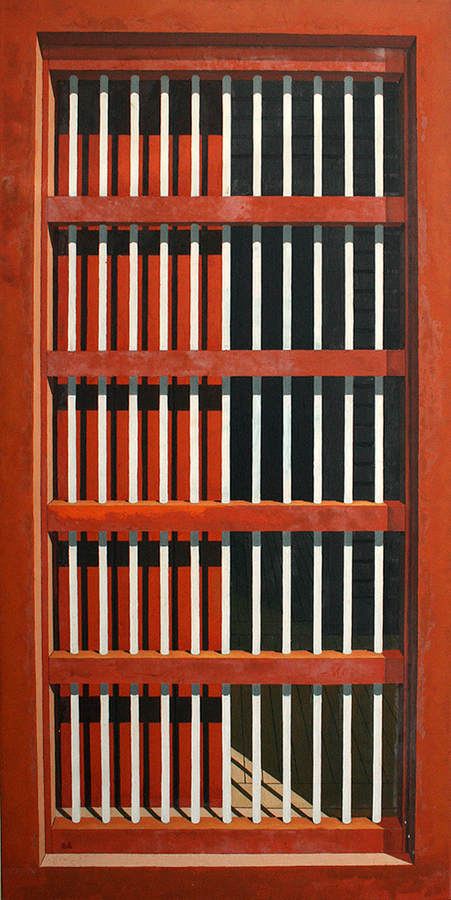 Emilio Sánchez
Period: Modern
1921 - 1999

The Picture Window
El Ventanal, 1973
oil on canvas
72 1/4 x 36 inches
SOLD


CURRENTLY THERE ARE NO ARTWORKS AVAILABLE OF THIS ARTIST

Emilio Sánchez was born in Camagüey, Cuba, in 1921. Born into one of Cuba's wealthiest families, Sánchez had the privilege of frequent travel throughout Europe and the Americas. He attended boarding school in the United States, and later, attended Yale University, the University of Virginia, and later, Colombia University. Sánchez had developed a life-long fascination with Colonial architecture, and would continue frequently to visit the Caribbean for inspiration even after his permanent relocation to New York in 1952. By the mid-1950's, the artist was exhibiting his paintings and prints throughout the United States, with solo shows in Houston, New Orleans, and New York, as well as internationally, in countries like Cuba, Puerto Rico, and Spain, among others. In 1968, Sánchez became an American citizen and signed with the venerated Associated American Artists gallery, which exhibited one-person shows for the artist in 1968, 1971, and 1981. In the latter decades of his work, Sánchez expanded his focus to also include Mediterranean architecture, and the urban landscape of New York. In spite of worsening eyesight, the artist continued exhibiting and painting until his death in 1999.

Emilio Sanchez's work is included in many important museum collections, including the Metropolitan Museum of Art, New York; Peréz Art Museum Miami, Miami, FL; Museum of Modern Art, New York NY; the New York Public Library; National Gallery of Art, Washington, DC; Smithsonian American Art Museum, Washington DC; Art Museum of the Americas, Washington, DC; Museum of Fine Arts, Boston, Boston, MA; Fine Arts Museum of San Francisco, San Francisco, CA; Museum of Fine Arts Houston, Houston, TX; Museo Nacional de Bellas Artes, Havana, Cuba; Museo de Bellas Artes, Caracas, Venezuela;, Museo de Arte Moderno Bogotá, Bogotá, Colombia; and the National Gallery of Australia, Canberra, Australia, among many others.