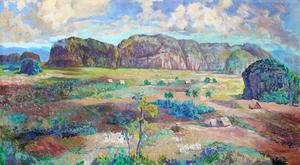 Enrique Crucet
Period: Early Republic
1895 - 1979

Valley of Viñales
Valle de Viñales, ca. 1940
oil on canvas
16 3/4 x 29 3/4 inches

Enrique Crucet was born in Havana on 12 July 1895, on the eve of the Battle of Peralejos. The artist cultivated both landscapes and marine paintings. He commenced his studies in basic and ornamental painting at the Galician Center of Havana where Baldomero Moreira, the Spanish painter and graduate of the San Fernando School of Fine Arts in Madrid, was his professor.


As a young man he departed to Barcelona, where he studied at the studio of Catalan painter Luis Granier. From there he turned to Paris, and later to Rome. He returned to Cuba in 1918 and exhibited his paintings at the Fine Arts Salon in Havana. This capital's municipality rewarded his artistic resolve, granting him a scholarship to study abroad. Crucet was a graduate of the National Academy of Fine Arts at San Alejandro. In 1919 he returned to Spain, and in Madrid he completed advanced studies at the celebrated Academy of Fine Arts at San Fernando, obtaining its credential. During this time, Julio Blanco Coris, Antonio Munoz de Graim, and Joaquin Sorolla y Bastida were the mentors who markedly influenced Crucet's artistic personality. He was also an alumnus of the School of Fine Arts in Paris. On October 19, 1920 he celebrated the first exhibition of his paintings at the Circle of Fine Arts in Madrid.


Crucet cultivated the theme of the Cuban landscape with a delicate hand. He painted the Cuban countryside assiduously, detailing its rivers, its valleys, its palm forests, the crests of its mountains, and nocturnes where all is silence, rest, and peace. From 1934 onward, Crucet achieves an artistic transition by taking the historical sites of the struggle for Cuban independence to the canvas. His series of studies of the route followed by Martí from Playitas to Dos Ríos demonstrates the patriotic breath that enlivens his whole pictorial production.


The artist's most salient awards encompassed: Third Prize at the International Exhibition in Paris, Medal of Honor and Honorable Mention at the Iberoamerican exposition in Seville, Landscape award at the Second International Biennal Exposition, and Gold Medal in Santiago, Chile. The artist died in 1979.