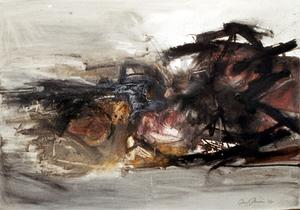 Enrique Gay García
Period: Contemporary
1927

Storm
Tormenta, 1982
oil and sand on paper
29 1/2 x 42 inches

A prolific painter, sculptor, and professor, Enrique Gay García was born in Cuba in 1928. He began his formal studies in painting and sculpture at the San Alejandro Academy of Fine Arts in Havana in 1950, and would later enroll at the Polytechnic Institute in Mexico in 1957, and at the Institute of Art in Venice and at the University of Perugia, Italy in 1963. In the late 1970s, he permanently relocated to Miami. In 1978, Gay Garcia was the subject of a documentary film, Gay García Casting Bronze. Works by Gay García were selected for the VI and the VII Sao Paolo biennials. His work is in the permanent collections of the Lowe Art Museum at the University of Miami, the National Museum of Fine Arts in Havana, the Museum of Contemporary Art of Latin America, Washington D.C.; the Miami-Dade Public Library, Miami, FL; and the Vermont Academy, Vermont, among others. Among his many accolades, he was the recipient of the prestigious CINTAS for Visual Arts fellowship in 1983. The artist died in Miami in 2015.