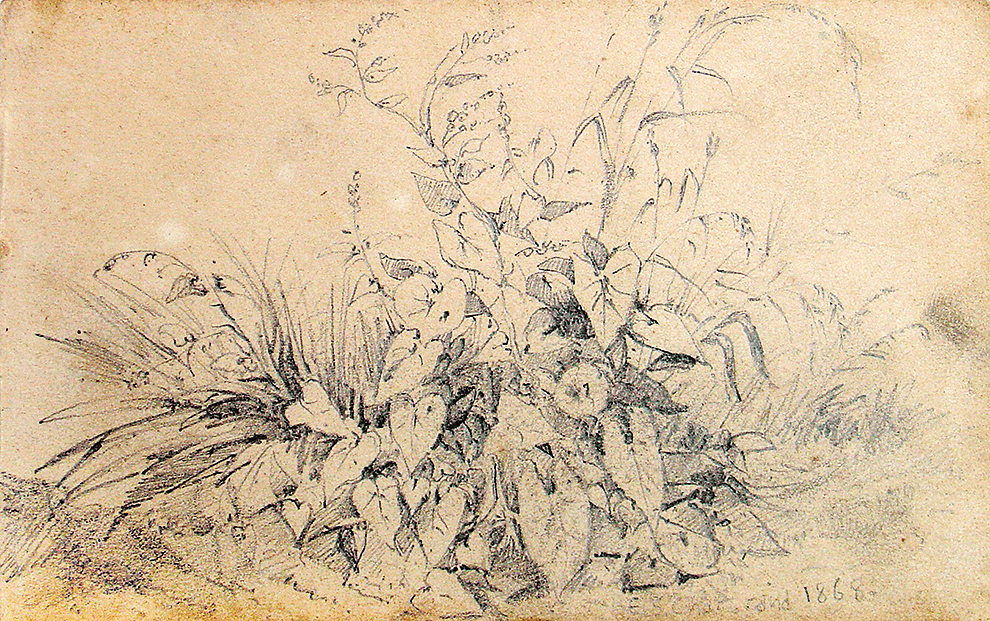 Esteban Chartrand
Period: Colonial
1840 - 1883

Malangas
Elephant Ear Plants, 1868
graphite on paper
2 3/4" x 4 1/2" inches

Esteban Sebastian Chartrand Dubois was born in the Limonar province of Matanzas, Cuba on October 11, 1840. Since he was very young, he showed vocation and talent toward the fine arts, probably encouraged by his mother, Luisa Carlota Dubois, a highly educated woman, pianist, and aficionada of portrait painting. He visited France in 1854 and again in 1864 to study painting. He was a pupil of the famous landscape painter Théodore Rousseau. In 1866 and 1867 he received his first awards for his works in Havana, besides Las Flores de Oro (The Gold Flowers), in Matanzas. In 1870 he exhibited at the Floral Fair of Charleston, South Carolina. In 1876 he was offered a position as a Professor of Landscape at the San Alejandro Academy, but could not meet the obligation. That same year, he presented the painting Valle del Yumuri (Yumuri Valley) at the International Exhibit for the Centennial of the United States, in Philadelphia. In 1881 he showed his works again at the Exhibit of Matanzas. On June 30 of this year, maybe as a prelude to his death, he documented, in his own handwriting, the list of the paintings created by him since he finished his studies in 1865, until that date: a total of 107 oil canvases in sixteen years. Around this time he decided to travel to Hoboken, New Jersey, looking for a nicer weather to fight the tuberculosis he was suffering. Unfortunately, death surprised him far from his beloved island on January 26, 1884. Art critics consider him one of the most outstanding Cuban landscape artists of all times. His paintings have been included in several exhibits in Cuba, Europe and the United States after his decease. On the island it is known there are about forty-seven oil canvases of his placed in local museums. In America, close to thirty works of art have been located in private collections, plus two other canvases are housed at the Daytona Museum and another at the Flagler Museum.