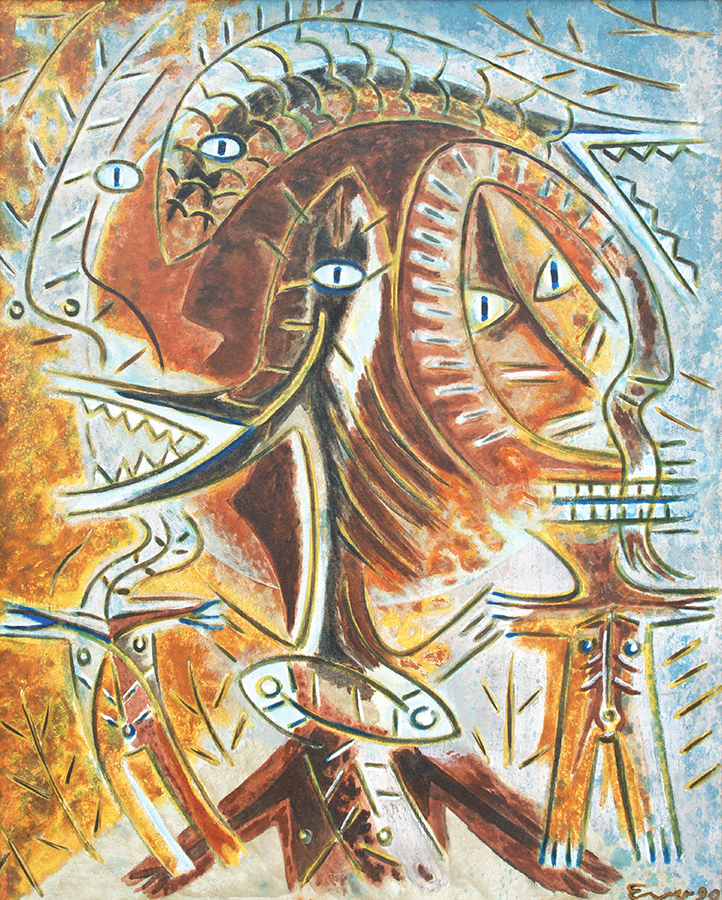 Ever Fonseca
Period: Contemporary
1937

Untitled, (Sin Título) 1990
oil on canvas
39 1/2 x 31 inches

Ever Fonseca was born in Ojo del Agua, Oriente, Cuba on August 24, 1937. The artist studied at the National School of Fine Arts in Havana. He has participated in more than 22 personal and 400 collective exhibits in Cuba and abroad, including a personal exhibition granted by the National Museum of Fine Arts which was inaugurated with the title Oils by Ever Fonseca. Fonseca has also served on the board of several international fine arts festivals and has taught painting for twenty years. In 2005, the artist was recognized with a Man of the Year award from the American Biographic Institute. Fonseca resides in Havana.

"Ever is a born creator of myths, recreating the Cuban popular universe, especially that of the countryside from which he himself came. His work combines poetry, naïve lyricism, and references to neosurrealism as seen through its local assimilations. Since his first solo show in 1971 his work has been dominated by drawing. A strong line, like the lead of a stained-glass window, outlines his heroes and animals, tinted with an earthy coloration that recalls the backgrounds of traditional paintings from New Guinea. The works that first made Ever known in 1970 were enormous canvases with a profusion of beings, elementary idols with stick-figure bodies recalling those of Victor Braunner; a recreation of the fundamental concerns of human nature: genesis, the gods, death, the hero."

Menéndez González, Aldo. Ever Fonseca. Poliscopio Cubano II. in cat. Ed. Galería Heller, Madrid, Summer, 1993.