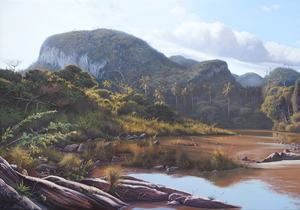 Giosvany Echevarría
Period: Contemporary
1971

Inner Peace
Paz Interior, 2017
oil on canvas
47 x 67 inches


Giosvany Echevarría was born on March 8, 1971 in the municipality of Viñales, Pinar del Río, Cuba. In 1986, he graduated from the Provincial School of Visual Arts in his natal province. He then completed a four-year Master's degree at the National School of Visual Arts in Havana, graduating in 1990. In 1987 and 1999, Echevarría garnered the II Salón de Invierno and Salón 14 de Diciembre awards respectively.

The artist is much inspired by the compelling beauty of the Viñales Valley in the province of Pinar del Río, depicting its renowned Mogotes (hillgrounds), rivers, majestic palms, and the unique effects of light in the landscapes of this particular region in Cuba.

His works have been exhibited in more than thirty group shows. Echevarría's works are part of numerous private collections and he has participated in various fine art fairs in the U.S. including Art Miami, Arteaméricas, Palmbeach3, Art20 & Modernism N.Y., Art D.C., CIRCA Puerto Rico, Art Hamptons N.Y., and the Los Angeles Art Show.

The artist is represented exclusively by Cernuda Arte.