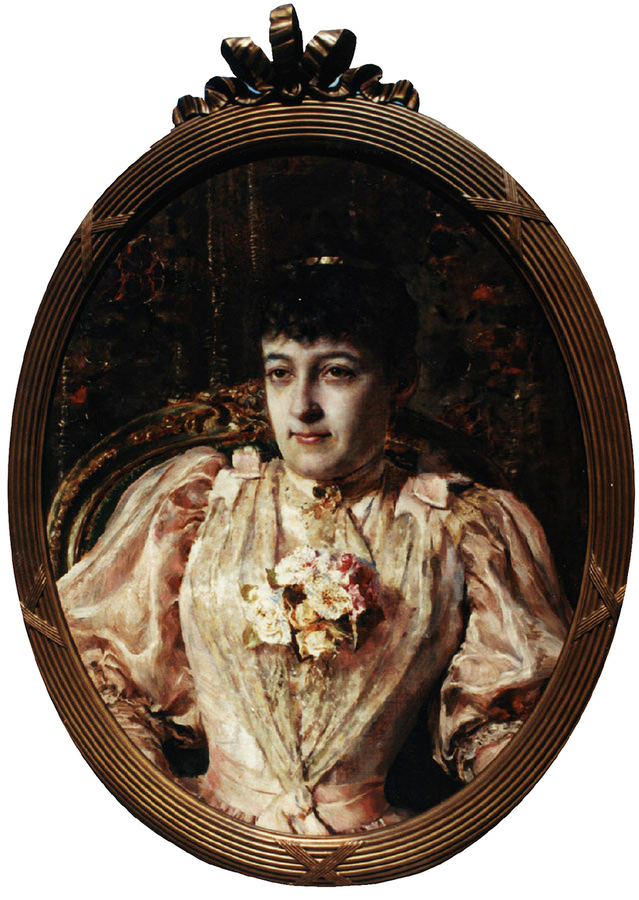 Guillermo Collazo
Period: Colonial
1850 - 1896

Portrait of a Lady
Retrato de Señora
oil on canvas
30 x 24 inches

Guillermo Collazo was born in Santiago de Cuba in 1850. His first studies were probably conducted in his native city under the guidance of Federico Martinez, as certain characteristics of his painting relate him to this artist. In 1868, his parents board him onto a vessel bound for the United States in order to save his life, since his commitment to the Cuban independence movement had endangered it. His passion for the Fine Arts directs him toward this path in New York, where he works as a colorist in a photography studio. After some years, he opens his own studio and then promptly achieves fame as a noted portraitist.

In 1883, Collazo returns to Cuba after this prolonged absence and settles in Havana, where he remains for some years until moving permanently to France. When Collazo returns to Havana, he has become a painter with a thorough mastery of technique. Julián del Casal in his Crónicas describes his luxurious studio which was frequented by arts aficionados and a select clientele in search of a good portrait.

Besides being a memorable portrait painter, the artist also realized landscapes and composition pieces. With technical dexterity and a rich chromatic gamut, he is capable of achieving splendid grays charged with pigments. His work is dominated by his characteristically elegant drawing. His models are always refined, to the point of rejecting professionals and utilizing friends and family members in his compositions. Two of his most distinctive works, La siesta, 1886 (The Nap) and Dama sentada a orillas del mar, 1891 (Lady Seated by the Seashore) are displayed at the National Museum of Fine Arts. Collazo died in Paris in 1896.


Lopez Nuñez, Olga. Guillermo Collazo in Cobas Amate, R. et al (Eds.) Guia Arte Cubano. Seville, Spain: Escandón Impresores, 2003.