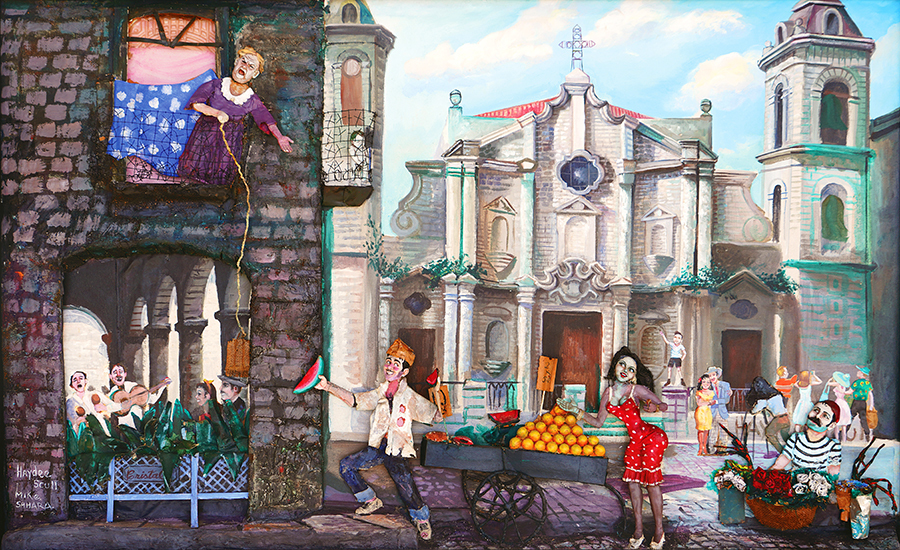 Hermanas Scull
Period: Contemporary


Havana Scene
Escena Habanera,ca. 1985
3 dimensional mixed media collage on canvas/board
38 1/2 x 62 inches

Haydée and Sahara Scull, also known as the Hermanas Scull, Scull Sisters or Scull Twins, were identical twins born in Havana in December of 1931 to a family of Cuban, Chinese, and Mexican ancestry. The two studied sculpture and painting at the esteemed San Alejandro Academy, and were established artists in Cuba from the late 1950s throughout the 1960s. Haydée left her home country for Miami in 1969, followed by Sahara in 1973.

The Hermanas Scull dedicated themselves to a collaborative art style, broadly classifiable as three-dimensional painting. In so doing, the Hermanas Scull became the first known collective in Cuban art history. Works by Hermanas Scull have also been collected by notable figures such as President Ronald Reagan and Queen Juliana of the Netherlands, as well as popular entertainers like Jerry Lewis, Gloria Estefan, and Antonio Banderas. At a height of their renown, the Hermanas Scull were photographed by Annie Liebovitz for her best-selling 1999 book, Women. Works by Hermanas Scull have been shown at the Havana Hilton Hotel and Museo de Bellas Artes in Cuba, the Bacardi Art Gallery and Vizcaya Palace and Museum in Miami, Florida, and the Mennello Museum of American Art in Orlando, Florida, among many other artistic and cultural centers. Works by Hermanas Scull can be found in private collections worldwide.