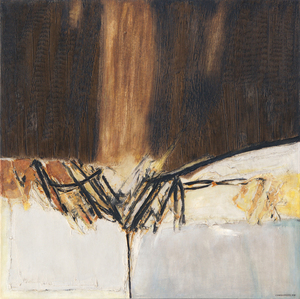 Hugo Consuegra
Period: Modern
1929 - 2003

Inland
Tierra Adentro, 1964
oil on canvas
31 1/2 x 31 1/2 inches

Hugo Consuegra Sosa (1929 – 2003) was born in Havana. He resided in Madrid from 1967 – 1969 and then in New York from 1970 onward. The artist studied at the San Alejandro Academy, and graduated from the University of Havana as an architect.


In 1953, he became one of the founding members of The Eleven, a group of young abstract expressionists. The group broke away from the representational style prevalent at the time in Cuba and produced its largest volume of work between 1953 and 1955, after which it disbanded. Consuegra and four of the original 11 continued to exhibit until 1963, in what became known as the post-revolutionary avant-garde movement.

Edmundo Desnoes' 1961 essay invites us to consider the artist's impact: "The paintings of Hugo Consuegra always give us the impression of having penetrated into an occult world: of having descended into an underworld or of stumbling onto the private life of an unknown family. His paintings always produce a subjective effect. His burnished blues, his tanned browns, his nightmare landscapes with back skies and desolated countrysides, belong to the world of the inner personality. There are areas in which color concentrates and seems to form thick drops, and other places in which it evaporates or is forgotten. His canvases are always resolved in genuine good taste."


Bibliography

Desnoes, Edmundo: Ocho pintores y escultores. Casa de las Americas, Havana, Cuba. November – December 1961. in Veigas, J., et al, eds. Memoria, Cuban Art of the Twentieth Century. 1st ed. Los Angeles, CA: California International Arts Foundation, 2002.