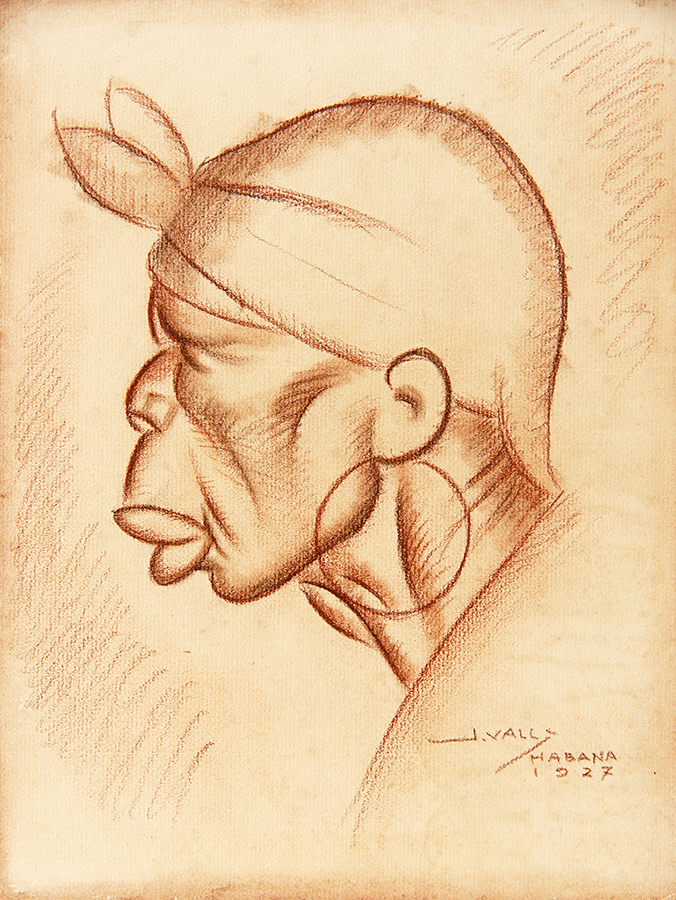 Jaime Valls
Period: The Vanguard
1883 - 1955

Old Woman
(Vieja), 1927
sanguine on heavy paper laid down on board
12 1/2 x 9 1/2 inches

Jaime Valls (1883 – 1955), craftsman, painter, and graphic designer, studied art at the Llimona Studio of Sculpture and Painting in Barcelona, Spain. He arrived in Cuba in 1901 and shortly afterwards was employed by El Chato Cómico, La Moderna Poesía, El Figaro and La Discusión as artistic director, craftsman, painter, and illustrator. In 1927 he participated in the seminal Exposition of New Art sponsored by the Revista de Avance. In 1929, he showed at the inaugural exhibition of the Lyceum Society of Havana, and in 1930 he presented his series of paintings of Afro-Cuban characters, in Havana, titled Afro Cuban Customer. The painting The Twins, hereby depicted, is considered to have been part of that show, which, in turn, was the first exhibition in Havana totally dedicated to the subject matter of Afro-Cuban contributions to the Island's culture.

Sadly, Valls contracts Parkinson's Disease and his promising career became truncated by the illness. The artist passed away in 1955.