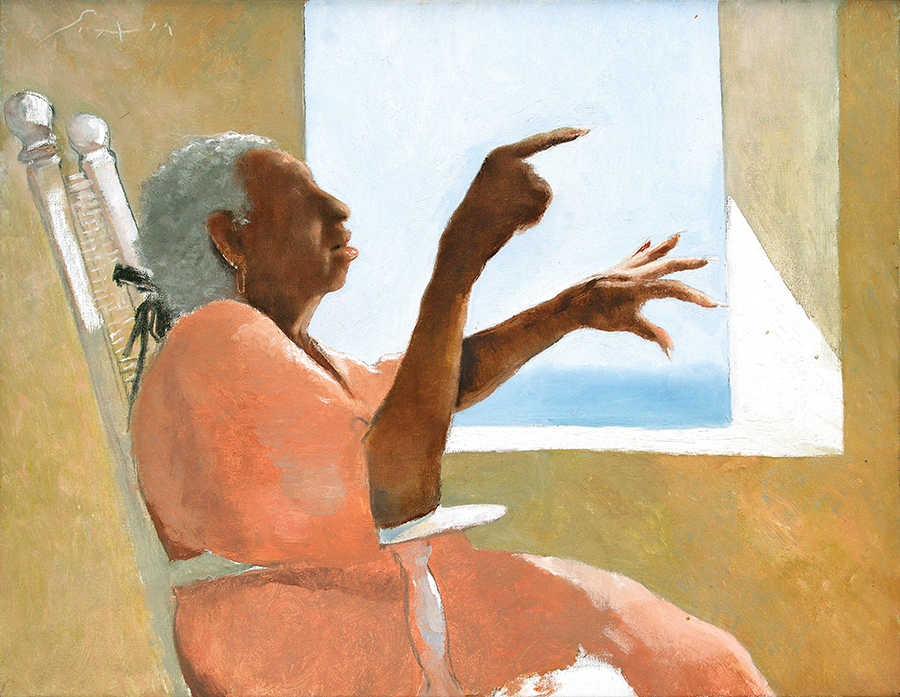 Julio Larraz
Period: Contemporary
1944

The Blind Storyteller
La Cuentista Ciega, 2000
oil on canvas
28 x 36 inches

Julio Larraz was born in Havana, Cuba, in 1944. His family would move to Miami in 1961, and later to Washington D.C. and New York City. Larraz began his artistic career as a political caricature artist, drawing strips that would appear in nationally syndicated publications such as Vogue Magazine, The New York Times, The Chicago Tribune, and The Washington Post. He began to focus on painting in the later 1960ís, and had his first solo exhibition in Washington D.C. in 1971. In 1976, he was the recipient of the American Academy Arts and Letters award, the National Institute of Arts and Letters award, and the Cintas scholarship.

Works by Larraz are in the permanent collections of the Perez Art Museum, Miami, FL; Patricia and Phillip Frost Art Museum, Miami, FL; Cintas Foundation, New York; Blanton Museum of Art, Austin, TX; Museo de Arte Moderno, BogotŠ, Colombia; NSU Art Museum, Fort Lauderdale; Museo de Monterrey, Mexico; Vassar College Art Gallery, Poughkeepsie, NY; and University Museum, Philadelphia, PA; among others. The artist has had many important group and solo exhibition throughout the United States, Italy, Monaco, Spain, France, Colombia, Panama, Mexico, Chile, Argentina, Peru, and more.