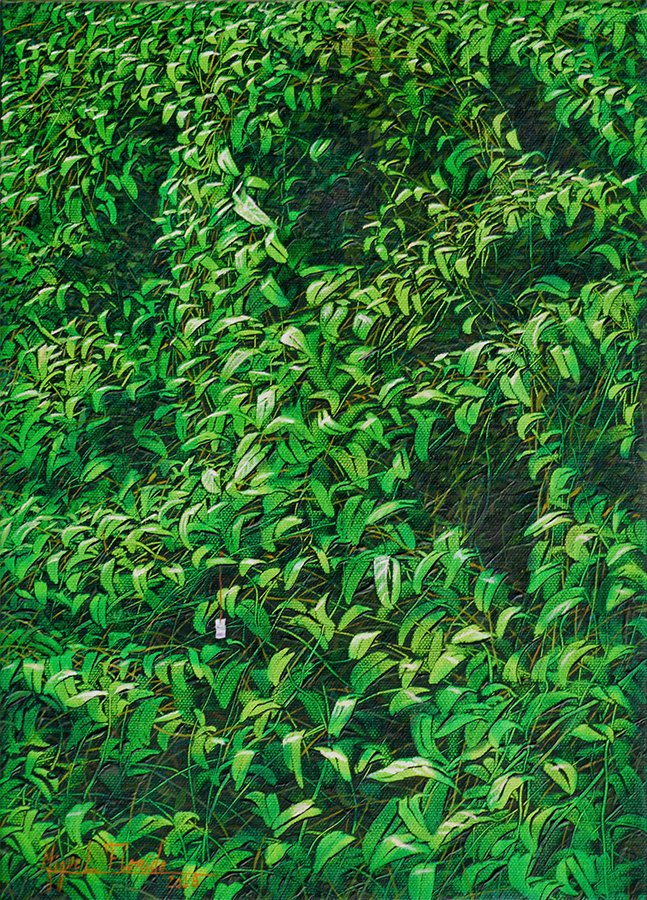 Miguel Florido
Period: Contemporary
1980

You Have Forgotten Me
(Tú Me Tienes Olvidado), 2011
oil on canvas
13 3/4 x 10 inches

Miguel Florido was born on October 6, 1980, in San José de las Lajas, Havana, Cuba. Florido, a self-taught artist, has garnered several awards and honorable mentions including: First Place, Salón de Pintura Vedasto Acosta, San José de las Lajas, Havana, in 2002; Third Place in the International Competition La Mariposa Blanca, given by the National Museum of Fine Arts in Havana, Cuba, in 1998; as well as other awards at provincial and national levels given to young Cuban talents. His works are part of private collections in Spain, France, the United States, Mexico, Puerto Rico, Panama, Grand Cayman and Cuba. The artist resides in San José de las Lajas, Havana, Cuba.

In 2003, journalist Justo J. Sánchez contextualized Florido's works as follows:

The still-life genre, in the manner of Sánchez Cotán and the Dutch masters, is present in two of Florido´s series: Bodies Without Life and Blue Door. They are not works undertaken as virtuoso exercises in painterly technique. Florido considers them "self-portraits" or deep explorations of the magic of his environs. […] The notion of vanitas appears in the Florido canon removed from its Judeo-Christian denotation. In a work like La última alegría (2001), the dramatic tension of the fleeting moment --life ephemeral -- is communicated with the same tenebristic intensity of the followers of Caravaggio. There is memento absentia rather than memento moris in the oeuvre of this young artist. Absence prompts the pictorial meditations of this Cuban incarnation of Sevillian Renaissance poet Fernando de Herrera.

Sánchez, J (2003) Florido: Strokes of Yearning and Hope. (In cat.) Florido: Hopes and Dreams. Coral Gables, FL: Cernuda Arte.