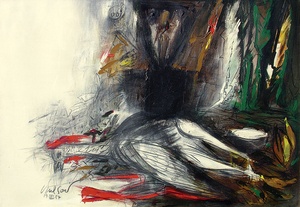 Nelson Domínguez
Period: Contemporary
1947

The Offering
La Ofrenda, 1987
oil on canvas
26 1/2 x 38 1/2

Nelson Domínguez was born in Santiago de Cuba in 1947. He studied at the Escuela Nacional de Arte Cubanacán from 1965 to 1970, and later became a Professor at the same school until 1985. He has been a Professor and Chair of the Painting Department at the Instituto Superior de Arte (ISA), where he has headed a group of professors specialized in engraving. He is a member of the UNEAC and the International Association of Visual Artists (AIAP).


Domínguez has been lauded with various Cuban national awards, including a 1984 prize bestowed by the Alejo Carpentier Cultural Promotion Center in Havana, Cuba. He has also garnered international awards and recognition in France, Bulgaria, Spain, the former Czechoslovakia, and Japan among others. Domínguez has been given more than 20 personal exhibitions. His works are collected by important museums and cultural institutions world wide. The artist lives and works in Havana, Cuba.