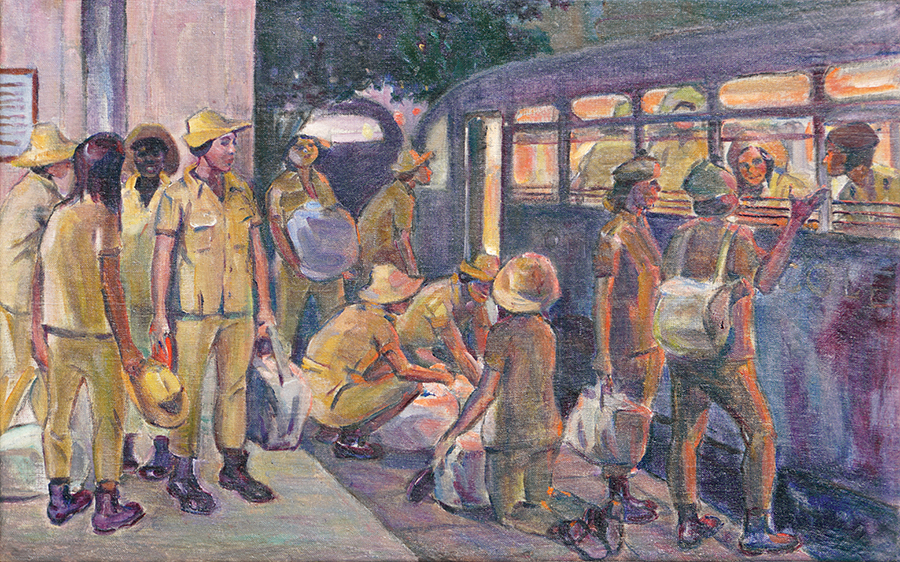 Oscar García Rivera
Period: Modern
1914 - 1971

School in the Countryside
Escuela de Campo, ca. 1960
oil on canvas
14 1/2 x 23 inches

Oscar García Rivera (1914 – 1971) was born in Pinar del Río, Cuba 1914. He studied art at the San Alejandro Academy in Havana and graduated from this institution in 1939. In the 1940s, he exhibited at the annual Salons of Beaux Arts in Havana. In 1941 at the XXIII Salon and in 1943 at the XXV Salon where he was awarded an Honorary Mention. In 1946, he presented a one person exhibition of his works at the Lyceum in Havana. The United States National Museum, Smithsonian, in Washington D.C. organized a major show of his works in October of 1947, part of which traveled to the Washington Arts Gallery, Miami Beach, 1948.

García Rivera was well aware of the 20th century American School of genre art and the works of such masters as Edward Hopper, Grant Wood, Thomas Hart Benton and Norman Rockwell. His desire to capture reality gravitated to popular urban scenes – jovial gatherings, street parties, religious ceremonies and other social events where he depicted people of different races participating harmoniously in various traditional settings.