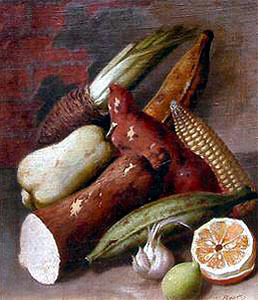 R.C. Bears
Period: Colonial


Staples
Viandas, 1879
oil on canvas
14 1/2 x 12 inches
SOLD


CURRENTLY THERE ARE NO ARTWORKS AVAILABLE OF THIS ARTIST




In 1863, Ramón C. Bear was appointed professor of the prestigious San Alejandro Academy of Fine Arts in Havana, just when the Spanish colonial government assumed the economic and docent responsibilities of this academy, stimulating its development. The Academy was - at the same time - expanding itself into the more spacious salons occupied then by the Sociedad Económica de Amigos del País, in Dragones Street.

Bear begins teaching the Basic Drawing course, under the direction of Juan Francisco Cisneros, a painter born in El Salvador who was the director of San Alejandro until his death in 1878. On that occasion, Ramón Bear was designated Ad-Interim Director of the Academy. His extensive docent career guarantees him a place in the history of important Cuban painting.
---
---- No Paintings Found ----