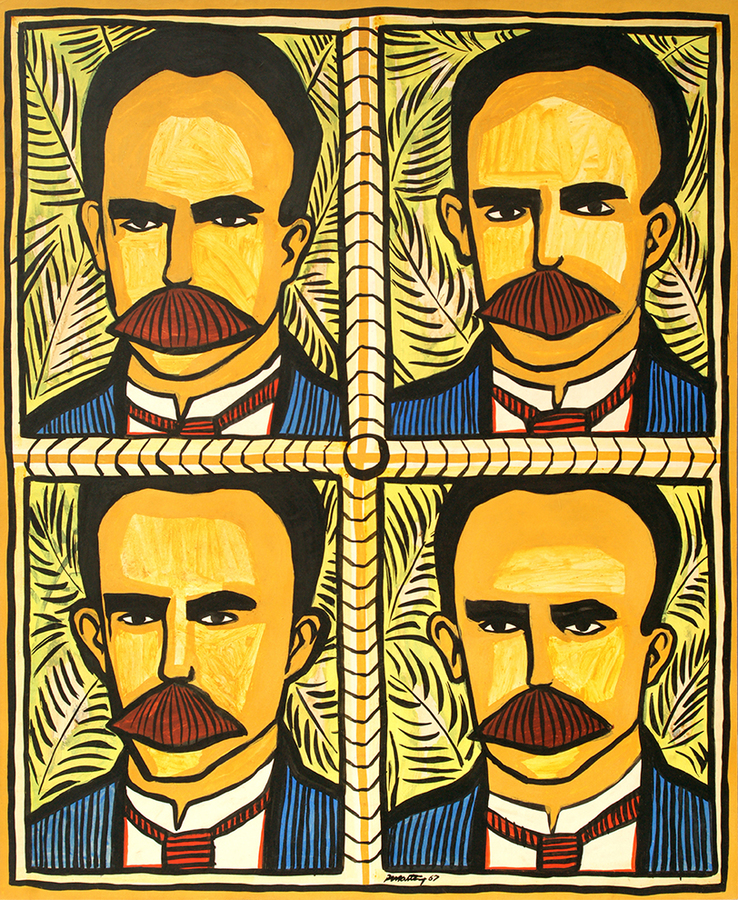 Raúl Martínez
Period: Modern
1927 - 1995

Four Portraits of Martí
Cuatro Retratos de Martí, 1967
mixed media on heavy paper laid down on board
31 5/8 x 25 3/8 inches

Raúl Martínez was born in Ciego de Avila in 1927. In 1941 he entered the School of Visual Arts at San Alejandro in Havana, Cuba, and finished two years later. In 1946, he attended the National School of Fine Arts at San Alejandro. Several years later, in 1952, he was awarded a scholarship to the Institute of Design of Chicago, founded by Moholy Nagy. In 1966, he began working with iconography, playing with the elements of popular paintings and pop art.
Raúl Martínez worked as a painter, designer, photographer, and promoter and as if this weren't enough, he was a wonderful anonymous writer. His artwork and lifestyle have relayed all the key moments in Cuban culture after 1959. He also participated in the development of Cuban film, the creation and development of La Casa de Las Americas, as well as the Cuban Institute for the Book, the development of artistic photography, the unforgettable Cuban poster era, and major projects for Cuban theatre, among other commitments.
Raúl Martínez died in Havana in 1995.