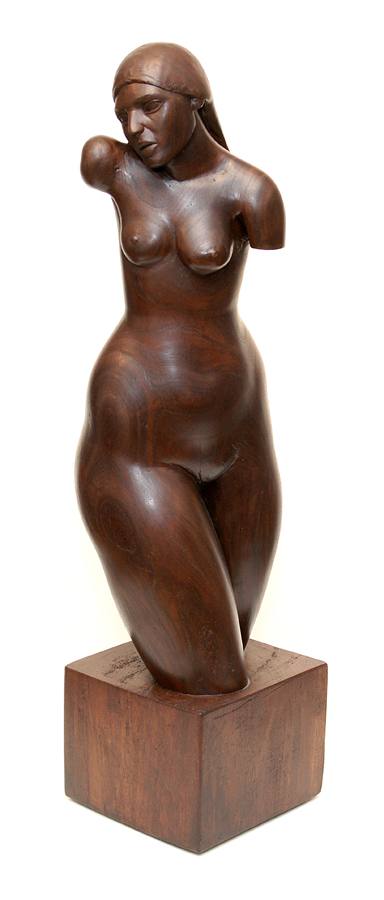 Teodoro Ramos Blanco
Period: The Vanguard
1902 - 1972

Female Nude Desnudo de Mujer, ca 1939
wooden sculpture
24 1/4 x 6 1/2 x 6 inches


Teodoro Ramos Blanco was born in Havana in 1902. He was an innovator of modern sculpture in Cuba and a master of modeling in bronze, marble, stone and wood. The artist studied at the San Alejandro School from 1917 and graduated in 1928. That same year he won the Mariana Grajales National Competition and the Gold Medal at the Seville Ibero-American Exposition which propelled his artistic career forward. From 1930, he left Cuba for Italy where he continued his studies especially through his visits to museums and galleries and by mingling with other artists and intellectuals. In Italy he held two exhibitions, one at the Casa de España and the other in the Exposition of Latin-American Artists. In his lifetime Ramos Blanco traveled to France, Spain, Mexico and the United States to further expand his knowledge of different techniques in sculptural art. From 1944 he began teaching at the Academy of Fine Arts San Alejandro. He received a Prize in the third National Painting and Sculpture Exposition in the Salón de los Pasos Perdidos (Hall of the Lost Footsteps) of the National Capitol and a Prize in the second Spanish American Art Biennial, National Museum of Fine Arts, Havana, Cuba.


The theme of racial issues was a key element in his sculptures, promoting universal values and the historical dimension of human beings. Teodoro Ramos Blanco died in 1972 in Havana.