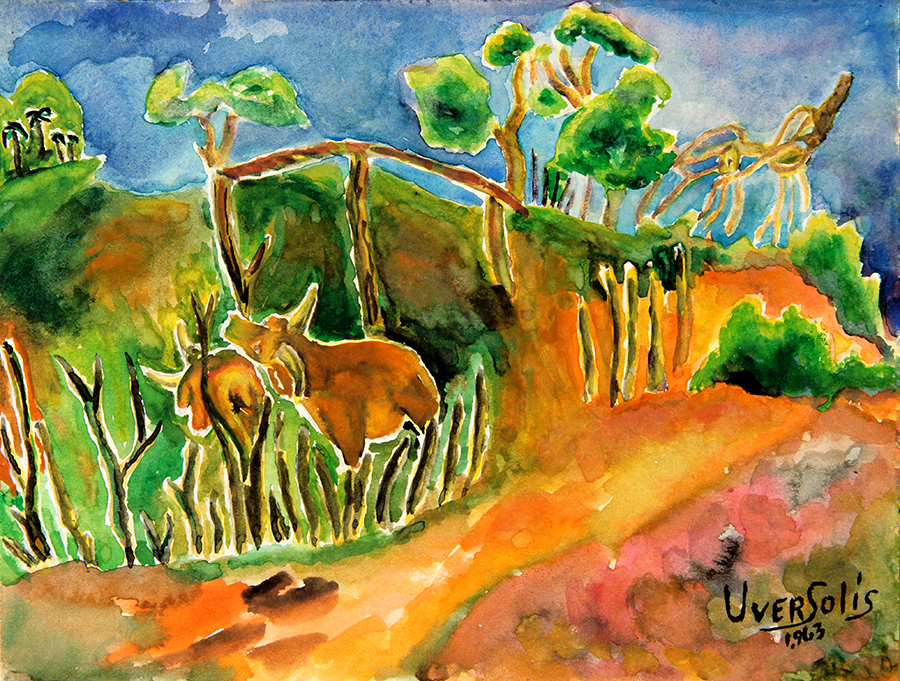 Uver Solís
Period: The Vanguard
1923 - 1974

Two Oxen at Sunset
Dos Bueyes al Atardecer, 1963
mixed media on heavy paper laid down on board
9 1/2 x 12 1/2 inches


Uver Solís was born in Mantanzas, Cuba, in the fall of 1923. She studied drawing at the School of Education in Havana under the tutelage of the renowned painter Domingo Ravenet. Her work, equal parts modern art and social testimony, reflected Cuban and Afro-Caribbean life in her times through an inimitable modern and naïve style executed in oil, tempera, watercolor and gouaches. In the years since her passing, works by Uver Solís have become exceedingly rare and sought after by collectors.

In 1945, Uver Solís had her first solo show at the Lyceum in Havana. In 1946, the artist participated in the Modern Cuban Painting exhibition at the Fine Arts Palace in Mexico City. Among the collectors who acquired works by Solís from this show was the renowned Mexican muralist, Diego Rivera, who remarked at the time: "If there is a Thelma Streat in the United States, in Cuba there is an Uver Solís, a synthesis of Spain, Africa and Asia." Works by Solís were included in Havana's National Painting, Sculpture, and Engraving Salons in Havana during the years 1951, 1953, and 1956, and in the Havana Fine Arts Salons in 1956 and 1951. Uver Solís passed away in Cuba in 1974.