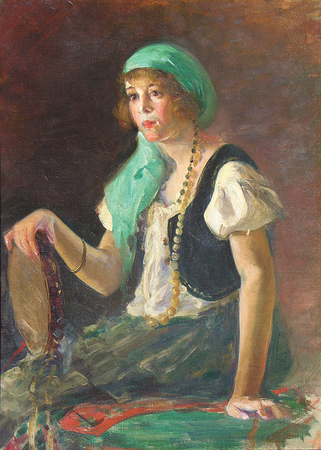 Leopoldo Romañach
Period: Early Republic
1862 - 1951

Gypsy
Gitana, ca. 1930
oil on canvas
28 1/2 x 20 1/2 inches



Leopoldo Romañach y Guillen was born in Sierra Morena, Corralillo, in the province of Las Villas on October 7, 1862. His formal primary and secondary education was conducted in Barcelona, where he came into contact with the work of the prestigious Catalan artist Fortuny. He returned to Cuba at the age of fifteen and in 1885 he enrolled at the San Alejandro Academy. There, he was a disciple of Miguel Melero.


In 1889 he received a scholarship to study at the Free School of Painting in Italy. He participated in Italy's Associazionne Artistico Internazionale, where he won some awards. From Italy he proceeded to New York City in 1895, where he established himself as a painter for several years. In 1900, he returned to Havana and was named professor of color theory at San Alejandro. From this institution, he dedicated the rest of his life to preparing three generations of artists. Due to his tolerance of new ideas in the arts and his pedagogic talents, he was celebrated by his pupils, not only by those who leaned toward academicism, but also by those who followed the way of the moderns. Romañach frequently left Cuba on contemplative journeys and his work was displayed in numerous important exhibits. In 1904 he won a Gold Medal at the Saint Louis Exposition and a Silver Medal at the Exhibit of Buffalo. In 1905 he obtained a Gold Medal at the Charleston Exposition, and in 1912 he garnered the Grand Prize at the Havana Exposition. In 1915 he was given the Medal of Honor at the Exhibit of Panama and in 1929 he received the Grand Prize in the Iberian-American Exhibit of Seville.

The Republic of Cuba granted him its greatest distinction in 1950, handing him the Great Cross of the National Order of Merit of Carlos Manuel de Cespedes. His paintings were included in the leading national exhibits throughout the first half of the 20th Century. In 1952, the Ministry of Education set up a large scale exhibit -as a tribute to his work- at the Los Pasos Perdidos Chamber of the National Capitol Building, and also published an excellent booklet completely dedicated to this great artist. In Miami, FL his work was included in the 1988 exhibit Pintura y Litorafias Cubanas (1825-1925) (Cuban Painting and Lithography) curated by Dora Valdés-Fauli at the Bacardí Gallery. The painter was deceased on the first of September of 1951, in the city of Havana.