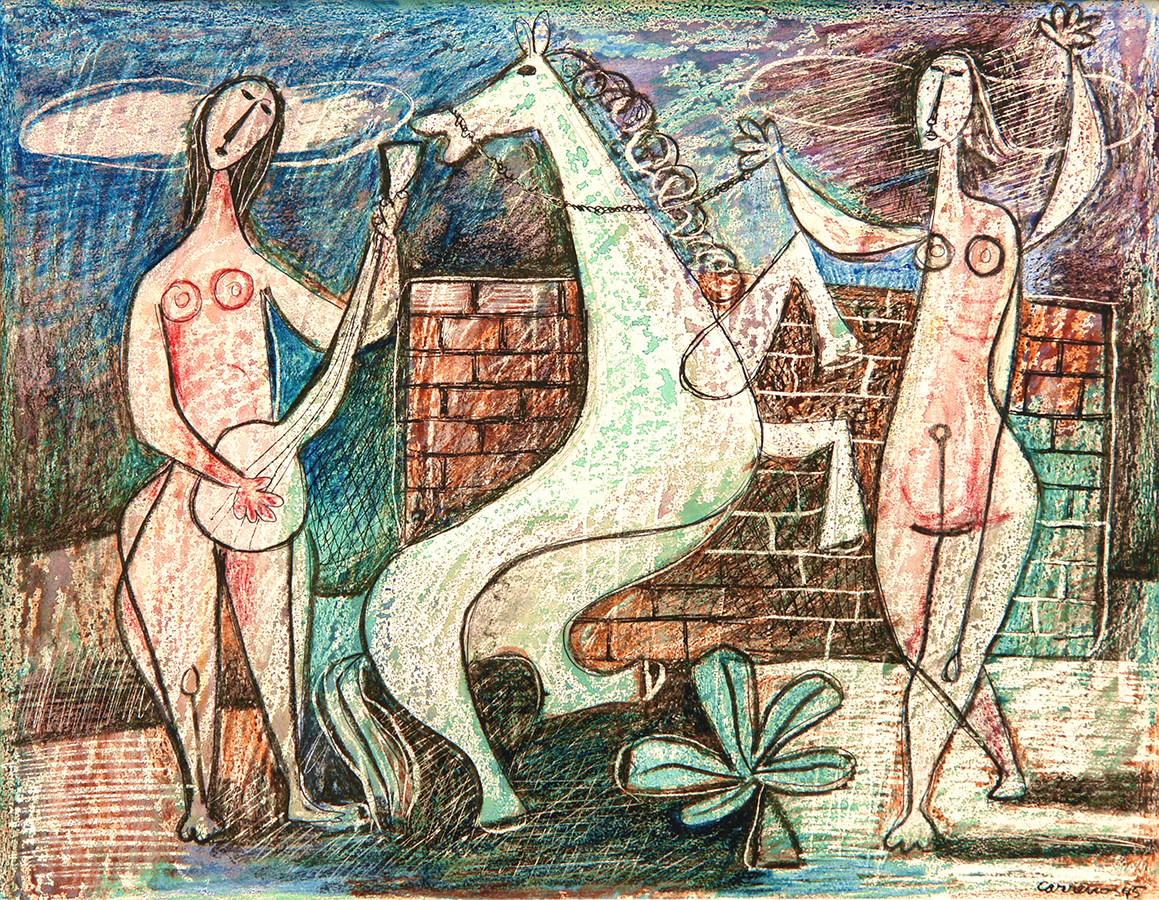 Mario Carreño
Period: The Vanguard
1913 - 1999

Women and Horse
Mujeres y Caballo , 1945
mixed media on board
13 x 16 3/4 inches

Born in Havana, 1913. "Like so many other artists, I studied at San Alejandro, but when I left for Spain in 1931, I wasn't able to dedicate myself immediately to painting. Graphic design allowed me to earn a living in those difficult years which were a prelude to the Spanish Civil War. In 1935, I left for Mexico, where I met and worked with the great muralists. But it was in Paris, between 1937 and 1939 that I began to exhibit with some success. The artistic environment was excellent; my circle was the same as that of Picasso and Lam. During the 40's I moved to New York and began to do abstract painting, which was in vogue at the time. I would often return to Cuba. In 1957, I came to Chile, at the urging of someone who was already a great friend, Pablo Neruda. He was always in awe of Cuba, of its climate, its beaches, its seashells (especially the polimitas). For me Chile was a sort of paradise, in contrast to the overly fastpaced reality of New York. I realized that it offered a different kind of life, more attuned to the rhythm of human beings, and that's what compelled me most strongly to stay. When I returned to Paris in 1962, I found a great preoccupation, a terrible anguish over the possibilities of an atomic war. For a long time, I was traumatized by a fear that pervaded all of Europe. From this experience emerged the series The Petrified World, my protest against war, against human suffering. In recent years I have had a great desire to feel the warmth of Cuba, to be in Cuba, and this has led me again to the theme of 'Antillanas.' I have not returned to Cuba since 1957."