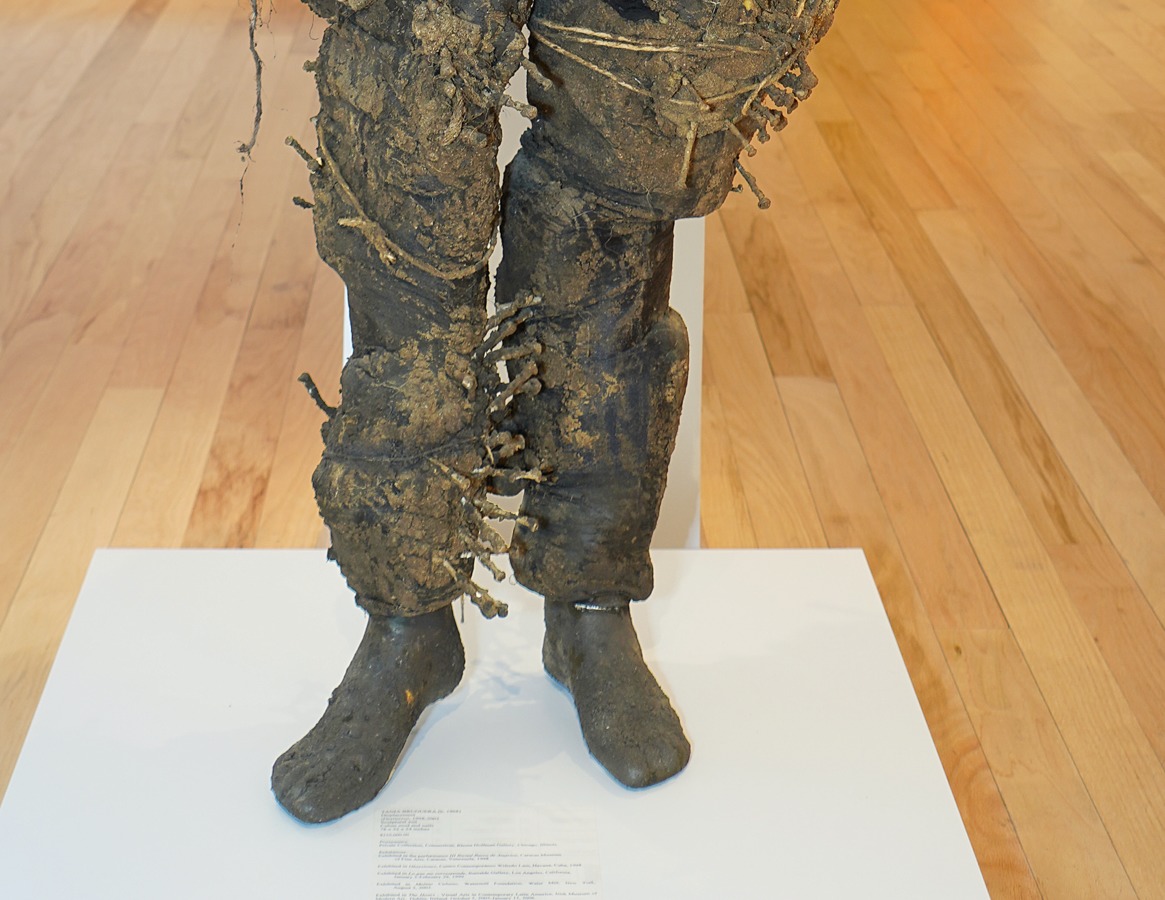 Tania Bruguera (b. 1968)
Displacement
(Destierro), 1998-2003
Sculptural suit, Cuban mud and nails
78 x 32 x 24 inches

Provenance:
Private Collection, Connecticut; Rhona Hoffman Gallery, Chicago, Illinois.

Exhibitions:
Exhibited in the performance III Bienal Barro de América, Caracas Museum of Fine Arts, Caracas, Venezuela, 1998.
Exhibited in Obsesiones, Centro Contemporáneo Wifredo Lam, Havana, Cuba, 1998.
Exhibited in Lo que me corresponde, Iturralde Gallery, Los Angeles, California, Jan. 5 - Feb. 29, 1999.
Exhibited in Molino Cubano, Watermill Foundation, Water Mill, New York, Aug. 3, 2003.
Exhibited in The Hours - Visual Arts in Contemporary Latin America, Irish Museum of Modern Art, Dublin, Ireland, Oct. 5, 2005 - Jan. 15, 2006.
Exhibited in Tania Bruguera - Installation/Performances, Kunsthalle zu Kiel, Kiel, Germany, Jul. 22 - Sep. 17, 2006.
Exhibited in Transfigured Worlds: Kongo Power Figure and Bruguera's Displacement Costume, Neuberger Museum of Art, Purchase College, State University of New York, New York, Jan. 28 - Apr. 11, 2010.
Exhibited in Selections of Cuban Modern and Contemporary Protest Art, Cernuda Arte, Coral Gables, FL, Jul. – Oct. 2021.

Literature:
H. Herzog, The Hours - Visual Arts in Contemporary Latin America, Dublin, 2005.
H. Posner, G. Mosquera, C. Lambert - Beatty, Tania Bruguera: On the Political Imaginary, New York, 2010, p. 70, illustrated.
Illustrated in IMPORTANT CUBAN ARTWORKS, Volume Thirteen, Cernuda Arte, page 171.