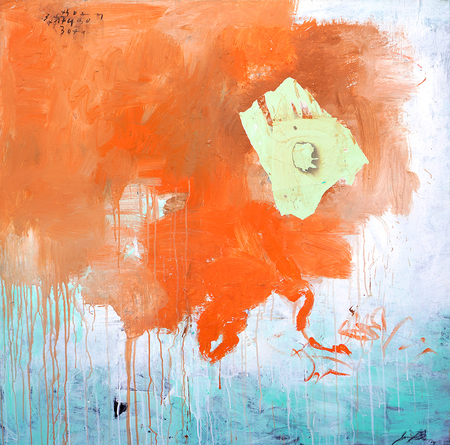 The Eye of the Hurricane
(El Ojo del Huracán)
---
Author: Jorge Luis Santos
Year: 2015
Medium: mixed media on canvas
Size: 51 1/4 x 51 1/4 inches
Inventory No: C5375
Price: $AVAILABLE



PRICE UPON REQUEST


Provenance: Acquired directly from the artist.



Illustrated in the book Jorge Luis Santos, Produced by Jorge Perez and Mario José Hernández, Selvi Artes Gráficas, Valencia, Spain, 2018 page 345.



Illustrated in Important Cuban Artworks Volume Seventeen, Cernuda Arte, Coral Gables, Florida, 2019, page 157.



Santos' neo-expressionist oeuvre, which combines abstraction, text and figuration, draws great inspiration from artists such as Jean-Michel Basquiat, whose revolutionary work was among the first to include graffiti and text-based elements as integral components of the composition.


Jorge Luis Santos's work is as much visual as it is visceral. In his artistry, there is not only form, color, line and a wealth of textured surfaces but also, a free passage of design. With an intuitive exploration of visual language, the artist works using a wide range of materials, delving into abstraction, concrete art, abstract-expressionism, collage, and exploratory techniques in mixed-media art.