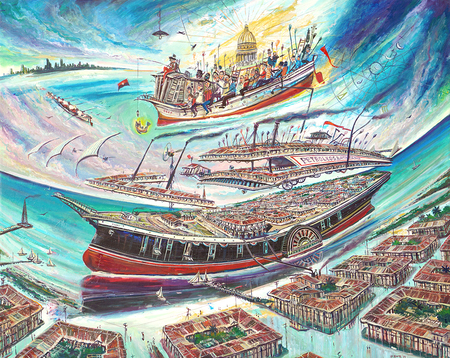 In Total Agreement
(En Total Acuerdo)
---
Author: Vicente Hernández
Year: 2019
Medium: oil on canvas
Size: 46 1/4 x 58 inches
Inventory No: 06461
Price: $AVAILABLE $14,000.00




Provenance: Acquired directly from the artist.



Vicente Hernández is a contrarian surrealist artist, born 1971, who applies the vocabulary of the absurd and the magnification of the contradictions of everyday life that surround him to formulate an imagined and uninhabitable dystopian society on the island of Cuba, where he resides. In this matrix, the obstinacy of mass migration, the feverish flight from a chaotic irrational universe, dominates everything else. The collapse of a modicum of civilization- as the center cannot hold- drives a multitude of characters by any means possible (or ridiculously imagined) towards the promised land in the far away horizon, a Nirvana depicted in the form of the skyline of Miami.