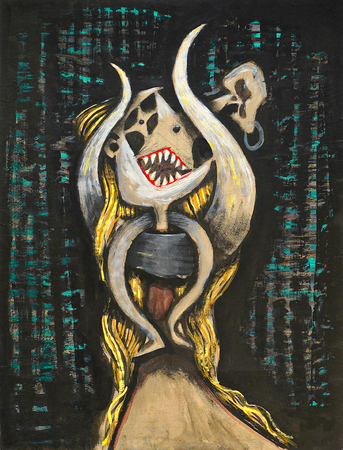 Head of Elegua
(Cabeza de Eleguá)
---
Author: Roberto Diago
Year: 1949
Medium: mixed media on heavy paper laid down on board
Size: 25 x 18 3/4 inches
Inventory No: 06595
Price: $AVAILABLE


This work was part of the collection of Ignacio Jacinto Villa Fernández, Cuban singer-pianist and songwriter, Bola de Nieve.


We are grateful to Juan Roberto Diago, grandson of Roberto Diago, for having provided a confirmation of authenticity and provenance details.



Roberto Diago Querol (1920-1955) is considered a key figure in 20th century Cuban Modernism. Born in Havana, Diago belongs to the second generation of the Cuban Vanguardia or Havana School, and from an early age showed interest and talent for the visual arts. The artist attended the prestigious San Alejandro Academy, completing his studies in 1941. As part of the Afro-Cuban intelligentsia, the artist found himself immersed in a cultural milieu during the 1930s and 40s that sought to affirm refined images of Afro-Cuban popular culture.