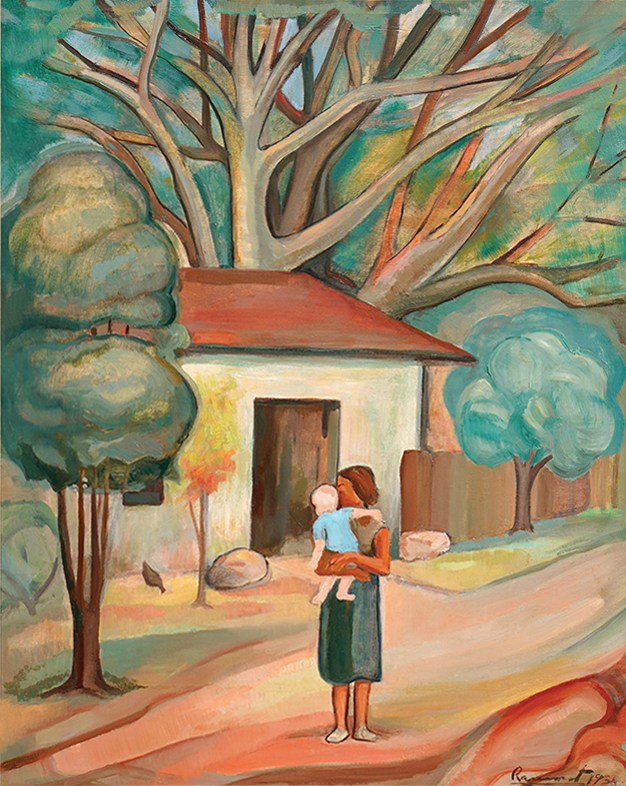 The Banyan Tree
(El Jagüey)
---
Author: Domingo Ravenet
Year: 1938
Medium: oil on wood
Size: 30 x 24 inches
Inventory No:
Price: $SOLD


Provenance:

Collection Mariano Brull, Havana, Cuba;

Cuban National Commission of Intellectual Cooperation, Havana, Cuba;

Museum of Modern Art (MoMA), New York.



De-accession by Museum of Modern Art, New York, to Cernuda Arte.

This painting was exhibited at Exposición de Arte Cubano Contemporáneo, Capitolio Nacional, Havana, November 1941, and illustrated in the corresponding exhibition catalog.

Exhibited in The Latin-American Collection of the Museum of Modern Art, MoMA, New York, curated by Lincoln Kirstein, March to July 1943, listed on page 94 of the corresponding exhibition publication.

Entered into the San Francisco Museum of Art, San Francisco, California, on 2/20/1942, as per Museum label attached to the reverse of the artwork, and exhibited in Contemporary Latin American Art, San Francisco Museum of Art, date unknown.



Illustrated in the book RAVENET, Ana María Muñoz Bachs and Mariana Ravenet Ramírez, 2015, Fundación Arte Cubano, Artes Gráficas Palermo, Madrid, Spain,on the front cover and page 83.



This work will be illustrated in the upcoming catalog, Important Cuban Artworks, Volume Eighteen, to be published in December 2021.