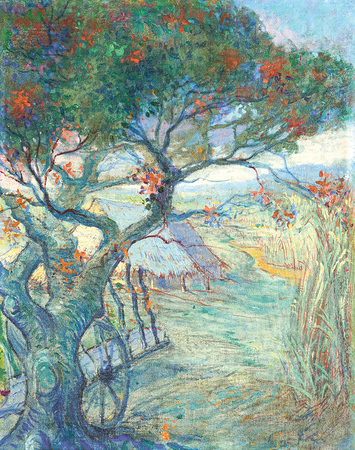 Pastor Argudín
Period: Early Republic
1880 - 1968

Poinciana Tree, Cart and Hut
(Flamboyán, Carreta y Bohío)
Oil on cardboard laid down on canvas
18 3/4 x 15 inches

Pastor Argudín (1880-1968) was born in Havana, Cuba on April 8, 1880. He studied art at San Alejandro Academy in Havana, and upon graduation the Council of that city awarded him a scholarship to study art at San Fernando Academy, in Madrid. He graduated as Professor of Painting and Sculpture from the premier arts university of Spain, and then traveled to Paris, where he lived and painted for over ten years, returning to Cuba in 1931. Argudín exhibited in various international expositions, in Madrid, Paris, Havana and other cities, earning a Gold Medal at the Circle of Fine Arts of Havana, and a Bronze Medal at the Ibero-American exposition in Seville, Spain, among other recognitions.