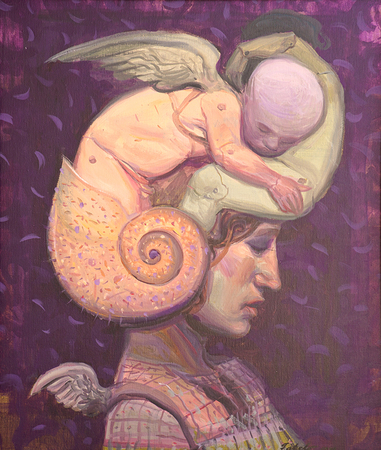 Head with Angels
(Cabeza con Angeles)
---
Author: Roberto Fabelo
Year: 1999
Medium: oil on canvas
Size: 27 x 23 3/4 inches
Inventory No: C5483
Price: $AVAILABLE



PRICE UPON REQUEST



Provenance: Acquired directly from the artist by the prior owner.



Revered as a prolific painter, draftsman, sculptor and engraver, Roberto Fabelo is internationally recognized as one of Cubaís most renowned contemporary artists. Underneath the ingeniousness of the artistís depictions, there is a distinct existential framework of mind where the force of the imagery is transformed into surreal phenomena.



Rich with figuration, Fabeloís strong aesthetic vision dissolves the physical, mental and temporal boundaries. The exceptional quality of his execution imbues his renditions with dreamlike scenarios and dramatic domains. This chimerical act, although grounded in the natural world, is more than anything a manifestation of the artistís inner universe through his own pictorial language. Fabeloís ebullient creativity not only reveals a fine line between reality and fantasy, but also appears to have some kind of allegorical significance beyond itself.



Head With Angels (1999) displays the artistís unique aptitude for blending the gentle with the menacing, achieving the signature unsettling beauty which has catapulted his work to global recognition.