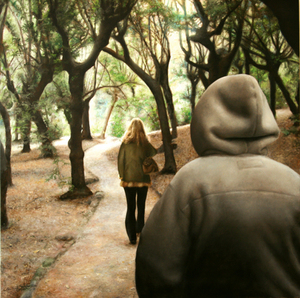 César Santos
Period: Contemporary
1982

Alone in the Park,
A Solas en el Parque, 2007
oil on canvas
50 x 50 inches

César Santos was born in Santa Clara, Villa Clara, Cuba on July 10, 1982. Santos is a graduate of the Angel Academy of Art in Florence, Italy, where he was trained in techniques and methods developed in the 19th century French ateliers. He also studied at the New World School of the Arts in Miami, FL, after receiving his Associate of Arts Degree from Miami Dade College.

The 2006 exhibit Spring Show precipitated this appreciation:

At first glance, the rigor of his craft (the virtuosity) may captivate us for certainly it attains that the figured objects look almost real… yet the central theme for César is the other, that subjective reality enshrouded in his paintings, the other likeness that forgets technique and attempts to describe the essence, the impalpable, the invisible. In César's cultivated portraits, in his still lifes, nudes and compositional pieces, certain permanent signs are detected, like presences in preordained papers, of precise significance.