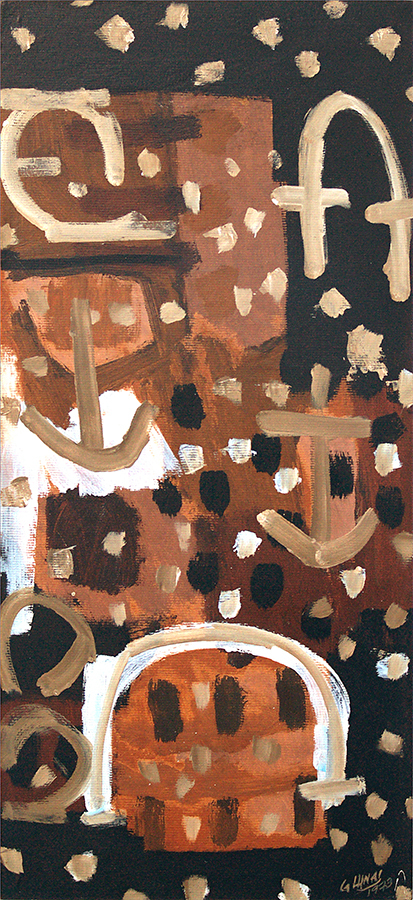 Guido Llinás
Period: Modern
1923 - 2005

Black Painting
Pintura Negra, 1973
oil on heavy paper laid down on wood
30 x 13 3/4 inches

Guido Llinás was born in Pinar del Río, Cuba on March 21, 1923. A self-taught artist, he specialized in painting and engraving. He studied a few months at the School of Fine Arts at Pinar del Río. In 1942, Llinás taught elementary school at the Escuela Normal of Pinar del Río and worked in several schools in the provinces of Artemisa and Havana until 1957. He graduated in pedagogy from the University of Havana. He exhibited his artwork as part of the group Los Once, who defended abstract art. In 1957, he travels around the United States visiting the major galleries and museums in New York, Philadelphia, Boston, and Washington, DC. In 1959, he moved to Paris and traveled, visiting the museums of Italy, Spain, England, and Germany. The Cuban government awarded him with a scholarship to return to Paris and work on engraving at the Hayter atelier.
In 1963, he became a visual arts professor at the School of Architecture at the University of Havana. On May 20th, he moved back to Paris and at the Denise René Gallery for several years, where he was in charge of the inventory for the paintings and serigraphs. This position allowed him to make contact with artists like Sonia Delaunay, Jean Arp, Vasarely, and Richard Montesen and to make friends with Latin American artists such as: Soto, Cruz, Diez, Tomasello, Le Par, and Di Teana.