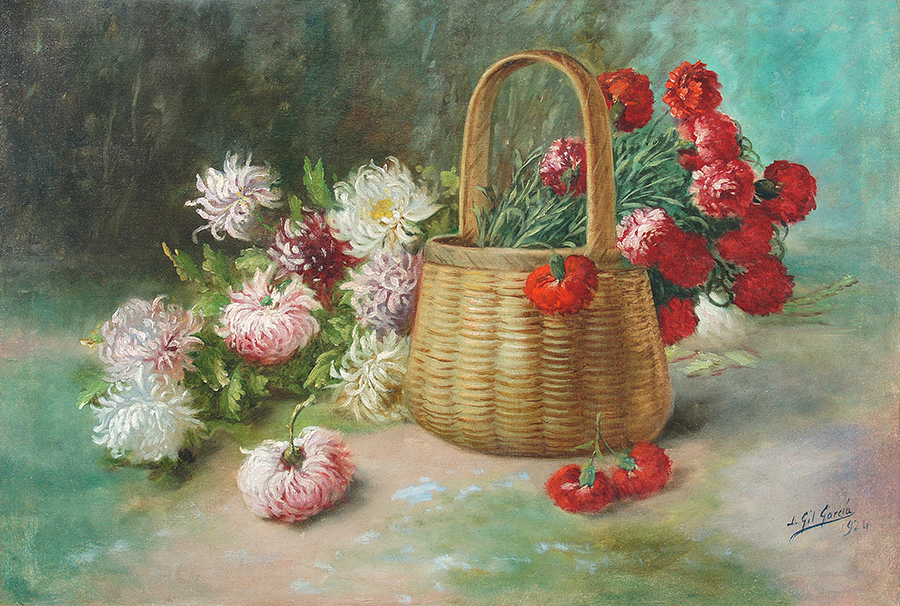 Juan Gil García
Period: Early Republic
1876 - 1932

Basket with Flowers
Cesta con Floers, 1924
oil on canvas
26 3/8 x 38 5/8 inches

Juan Gil García (1876- 1932) was born in Madrid, Spain and moved to Cuba near the close of the 19th century. On the Island he developed, with his canvases, the theme of the national landscape along with that of the fruits and flowers of the country. His painting was the first in Cuba to confer great relevance to the local fruits, expressing, through their opulent and savory forms, the sensuality and fertility of his adoptive homeland. In 1917, The Bohemian Magazine granted him seven cover pages, reproducing his artworks Cocos (Coconuts), Anones (Sugar apples), Mangos, (Mangoes), Zapotes (Sapodilla), Naranjas (Oranges), Plátanos (Bananas) and Mameyes (Sapotes). In 1916 and 1917, he exhibited at the Fine Arts Salon in Havana. Forgotten since before his death, it wasn't until May of 1971 that his first personal exhibit was arranged at the Museo de Arte Colonial (Colonial Art Museum) in Havana. In November of 1993, the Morgenstern Gallery in Miami, FL organized an exhibit of his work from the Ramiro Casanas private collection.


Gil García – as he was called- was a highly prolific painter who developed a vast quantity of work of which a good selection is preserved at the Museo Nacional de Bellas Artes (National Museum of Fine Arts) in Havana. The Daytona Beach Museum of Arts and Sciences in Florida also holds some of his paintings in its permanent collection, which has traveled to museums in cities across the State including Pensacola, Key West and Orlando. The artist passed away during the nineteen thirties, probably on May 4, 1932.